Equinoxe
-
Partnership ENSCI Les Ateliers & SNCF
In collaboration with Maëlann Vacher
Sep.2015 - Jan.2016
-
In order to offer the traveler an alternative rhythm in the train station, our project speaks of peaceful traveling. Often governed by time and the stress to miss his train, the waiting time in station, is the stressful part of the journey. We chose to add reverie to waiting by using the image of the sun. Its progressive run in the sky, shows passing time. When it falls, it has true attractive effects with blazing colors in the sky until it goes under the horizon. For the project, we use the sun and its image as a graphic support. Our hand-drawn colors researches led us to a representation that describes several stages of time. Equinoxe is a system of three objects. A departures board designed for waiting areas, an immersive curved screen, a mobile app.

The first one materializes a sunset panorama. It is a departures board designed for waiting areas :
a sequence is created by a horizontal succession of screens, in which each destination has its sun. First, progressing in smoothing shades of blue, destination evolves into purple shades with the track announcement, to pass below the horizon when the train lefts.

The vertical screens are displayed on a rail. It's lenght depends on the train station size.
The second one is an immersive curved screen. This is a dive in a landscape saw from a train window. Installed outside the flow of travelers, these landscapes of European sunsets, create a course and invite the traveler to stroll through the station. A soft notification keeps you in contact with traffic news.


Four curved leds rods are fixed to a motor, protected behind a polycarbonate screen. Their rotation creates the display with the peristence of vision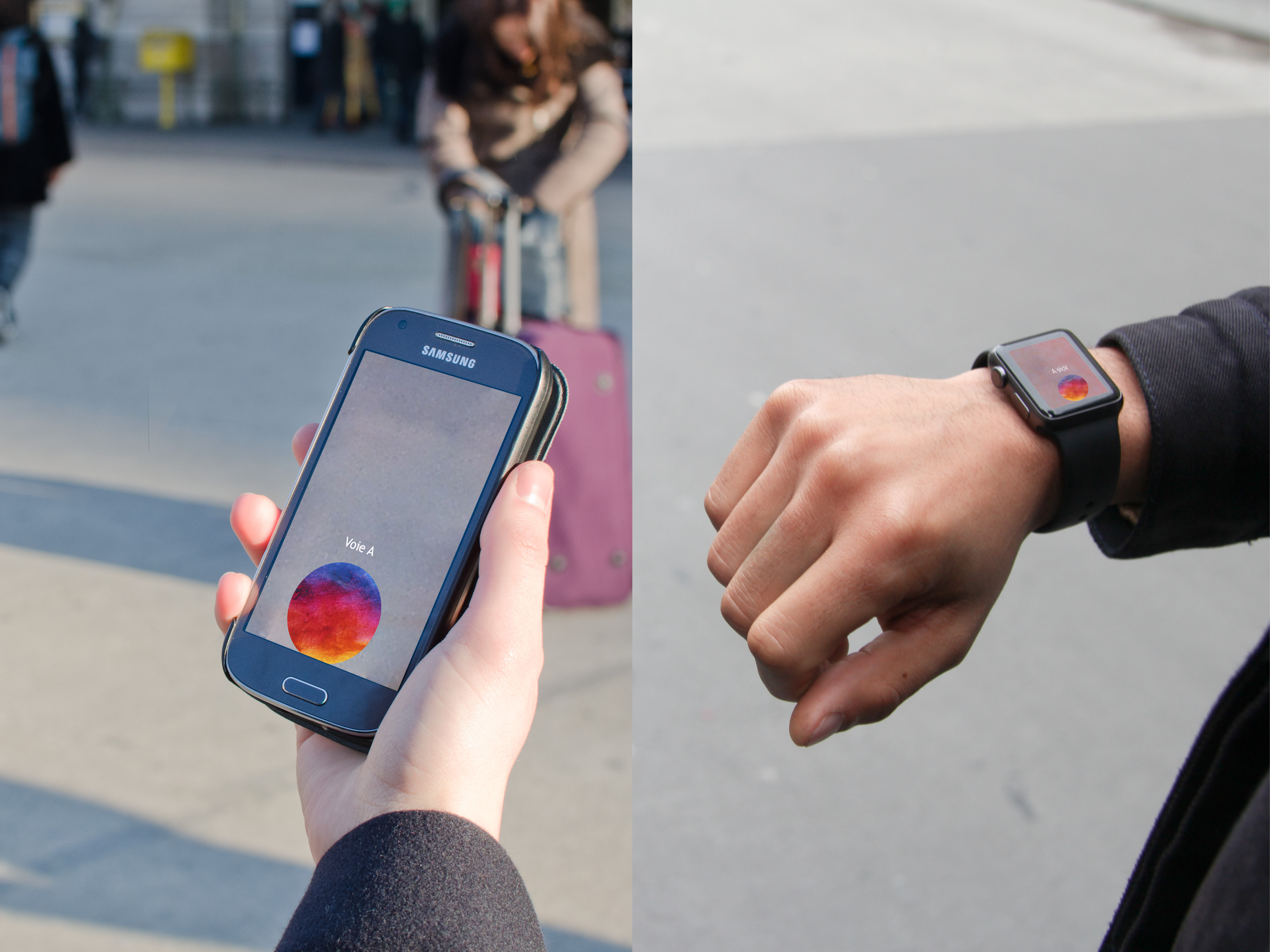 The third is an extension of the SNCF app. For mobile or smart watch, it keeps the sun with you. A simple look at its positionin the sky allows you manage your time.



With these three devices at different scales we propose an alternative to the current path and waiting at the station :

A peaceful route that uses the sun's image.
© Maxime Louis-Courcier - 2018